Father Peter's Monthly Message
Believe in Miracles…



Dear Friend of St. Jude,
I have a very important date to note on your calendar! The Feast Day of St. Jude is quickly approaching on October 28th. As a cherished member of our Circle of Hope, I knew you would want to be included in the celebration!

St. Jude's Feast Day is the perfect opportunity for us to celebrate and honor our Patron Saint of Hope. Here at St. Jude Shrine, we will be holding special Masses on his Feast Day, October 28th, and throughout the month of October. Our Pallottine Fathers and Brothers will thank St. Jude for all the miracles he has revealed through direct intercession with our Lord, Jesus Christ – and appeal to him on behalf of those who still await answers to their own prayers. 

If you can, I hope that you'll join us in person here at our Nationwide Center of St. Jude Devotions in Baltimore, Maryland. If you are unable to visit the Shrine in person, you are invited to join us online on Facebook (@stjudeshrine.org) and YouTube (St. Jude Shrine Live Stream).

Even if you can't join us, I invite you to be part of our Feast Day Celebration through prayer. I urge you to send me your special prayer intentions right away, so that we can pray with you for St. Jude to touch your life. Our priests and brothers look forward to receiving your prayer requests. We want to pray with you during this special time of year!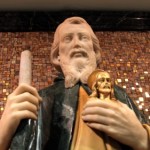 Do you remember the story of St. Jude? He was a cousin of Jesus and one of His twelve chosen apostles. St. Jude traveled great distances spreading the message of Christianity, carrying the hope of life everlasting through Jesus Christ.

During one of those trips, St. Jude came upon a sick and dying king in Mesopotamia. He carried with him a cloth, which Christ had used to wipe His face. On that cloth, Christ's image remained.

St. Jude presented the cloth to the dying king and miraculously, the king was cured! This is believed to be one of St. Jude's earliest miracles – and he became known as the saint of the impossible!

Through his intercession with Christ, St. Jude provides many blessings to those who come to him with their needs and problems. Our cherished patron saint has brought help and hope into the lives of thousands of people around the world. Just a few of the many testimonials we receive weekly are shown in this letter.
"I was suffering from stage three stomach cancer. The doctor had given me no hope of survival, but I trusted God and said the St. Jude prayer daily. I thank God and St. Jude for healing me and
giving me a new life!"

"I was an alcoholic for 12 years. My mother had lost all hope and started praying to St. Jude for me to come back to church and get free of my addiction. Within weeks of praying to St. Jude, I got up at 7 am, got ready, and went to church. I hadn't done that on my own in years. Within a month, I was free of my addiction and by the Grace of God, I have been in recovery for over 10 years now."

"My daughter needed to pay her property taxes and was short about $1,500. If the taxes were not paid, she would lose her home. When I prayed to St. Jude, she received the money needed plus
extra and was able to save her home."
Let St. Jude intercede on your behalf as well. No matter what is troubling you – or what difficult circumstance you are in – please let us help. 

Take a moment now and write down the things in your life that you would like to be offered up to St. Jude. Send those prayer petitions to me. I will include your personal needs in all of our Novenas and Masses here at the Shrine during this special time.

And when you send your prayer requests, I also hope you will consider sending a donation to help support our Pallottine missions in 54 countries around the world – and right here at home in the United States. I know that times are hard for so many, but every dollar you send, no matter the amount, helps support the work of our priests, brothers and sisters serving among the poor, as well as the ongoing ministry of St. Jude Shrine here in Baltimore. Your offering will not only help provide tangible relief aid such as food, shelter, clean water and education, but it will also be a source of hope for those
lost in despair.

My prayer is that the kindness you have shared with our ministry will be abundantly returned to you. Please know that when I say my prayers, some of my most thankful prayers to God will be for you!
Wishing you the hope of St. Jude,  
 Fr. Peter Sticco, S.A.C.
   Novena Director
P.S. Your gift today helps support all our Pallottine ministries, particularly our St. Jude Shrine and the poor we serve. Please be as generous as you are able and don't forget to send your prayer requests so they may be remembered in our prayers, Masses and Novenas at our Shrine, and on the tomb of St. Jude in the Vatican.
TEXT-to-GIVE to St. Jude Shrine! Now, giving is as easy as pie!
Just text Feast10 to 84576 to give $10 or more for the Feast Day of St. Jude
What is Text-to-Give?
Text-to-Give is the easiest & most secure way to donate to St. Jude Shrine! Simply text the keyword Feast10 to 84576 to donate $10. We'll charge your preferred card on file (if you have a saved payment method) or send a link your way to provide your payment details securely!
Thank you for your support of St. Jude Shrine!