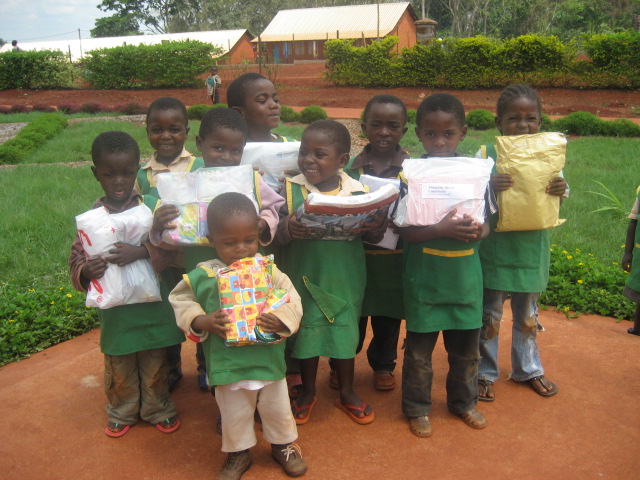 At this time of year, families are preparing to send their children back to school and their teens off to college. But for many families around the world, extreme poverty wipes out any chance their children may have for an education.
For example, in Cameroon, more than 48% of the people live well below the poverty line, with 55% in rural areas living on practically nothing. When I speak with our Pallottine priests and brothers serving in that country, they tell me that education is the key to giving children a chance for a better life and to breaking the cycle of poverty and despair. Yet, very few children in villages attend school because families do not have money to buy the required uniforms and school supplies.
In the isolated villages of Peru, many children are also deprived of an education. They are desperately poor and lack even the most basic services. Purchasing books, supplies and uniforms is out of reach for most families. Likewise, in the Philippines, where Typhoon Haiyan struck a harsh blow to Negros Island, I hear the same words from our priests and brothers – keeping the children in school is almost impossible. With the crops gone, the people's livelihood is gone, making it even more difficult to financially support a basic education.
Our Pallottine priests and brothers are serving in Cameroon, Peru and the Philippines, as well as in countries around the world heeding St. Jude's call to help those in desperate need of hope.
Thanks to your generosity, we are able to reach out with hope to the poor in these forgotten corners of the world.
We urgently need your continued financial support today. As schools prepare to begin, we need your help to keep the doors open and to provide opportunities for children to attend. Will you please send your gift for this urgent need today?
Your contribution also will help us to reach out in hope to those seeking peace through our ministry at St. Jude Shrine, especially among the poor.
When life seems hopeless or challenges too overwhelming we do have a place to turn. We can ask St. Jude to intercede for us so we can experience the powerful love of God.
 I invite you to share your intentions – those deep within your heart – on the enclosed form. Our priests and brothers will remember them in our prayers and at Mass as we reach out to those in need of healing – the abused, the homeless, the infirm, all those who feel lost and without hope.
Please know that you can count on me to seek God's hope and favor for you and for those you love and care about. And know that some of my most thankful prayers to God will be for you. You are a blessing!
 Wishing you the hope of St. Jude,
Fr. Peter Sticco, S.A.C. 
Novena Director
P.S. Please help us provide an education for the children who desperately want an opportunity to break the cycle of poverty and despair. And please send your prayer requests so they may be remembered in the prayers and novenas at our Shrine. I promise also to include your needs in daily Mass that is celebrated on St. Jude's tomb in the Vatican.