Everyone is Called to be an Apostle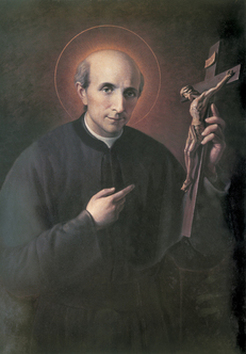 Dear Friend of St. Jude,
"Everyone is called to be an apostle." These words from our founder are rooted in his deep desire to inspire people from all walks of life to work constantly for God's kingdom. Thank you for your generous support in helping us continue the important work we do for Christ. In appreciation of your ongoing support, please know that our Pallottine Fathers and Brothers are praying for you at our missions around the world.
St. Vincent Pallotti was born in Rome in 1795. From the time of his childhood, he offered his resources and his life to the service of all. Truly radical for his time, St. Vincent was known for approaching the "faithful of every class, rank, and condition" to minister to "those who are most spiritually needy."
In 1835, St. Vincent founded the Union of Catholic Apostolate, commonly known as the Pallottines, to "renew faith and rekindle love" among Catholics and propagate the faith to all. He sought people to treat those in need "with care and with a loving and tender concern." He called the Pallottine Fathers and Brothers to charity, patience, humility, zeal, and the love of God.
St. Vincent died in 1850, and today his body lies incorrupt – a sign of holiness in the Catholic Church – in the church of San Salvatore in Rome. His feast day is celebrated on January 22nd.
Today, we Pallottines strive to follow the ideals and convictions of our founder by offering hope to others. With your help, our Pallottine priests and brothers serve in 54 countries around the world. We rely on your compassion and donations to support our works of mercy – and pray that you will continue your generosity.
In the last few years, you have been reading about our mission in Ayachucho, Peru where the Pallottine Priests and Sisters have been helping the needy people living in isolated mountain villages. With your help, we have been able to bring the sacraments to people with no access to the church and have been providing food, clothing, shelter and education to orphaned children.
Today, I am asking for your financial help and prayers as we expand our mission in Peru to the capital city of Lima. Currently, the poverty rate in Lima is 13.3% (earning less than $105 per month), and more than 35% of the population lives in shanty settlements. Over half a million people get food from community kitchens.
 The Pallottines have two priests who will be starting their work in Lima. We are developing a parish called Our Lady of the Mission and plan to bring help and hope to the impoverished people living in this struggling city. We need your help to secure a clean, safe home that is in good repair for our Pallottine Fathers.   
We rely on your compassion and contributions to support our missions in Peru and around the world. We pray that you will continue your generosity. Our Pallottine Priests and Brothers will be honored to remember you and your loved ones in prayer. We will call upon St. Jude's powerful intercession for those in your life who need help and hope. Perhaps you have a relative who is fighting cancer, a child facing unemployment, or a dear friend who is battling an addiction. Please let us pray for them.
I invite you to write your intentions on the enclosed reply form and return it to me in the envelope provided. Your petitions will be lovingly remembered in prayer and all our good works. Please continue to help us by supporting our ministries throughout the world and here at home at our beloved St. Jude Shrine.
Our appreciation goes out to you for all you continue to do for us. Thanks to your prayers, sacrifices, and financial support, we are able to serve Christ in the poor and bring hope where there is none.
Wishing you the hope of St. Jude,   
Fr. Peter Sticco, S.A.C.
Novena Director
P.S. Please send your prayer requests along with your most generous gift today. I will make sure your prayer requests are remembered in the prayers, Novenas and Masses at our Shrine and in daily Mass that is celebrated on St. Jude's tomb in the Vatican