Pallottine Mission Work in Mozambique, Africa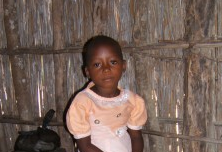 Dear Friend of St. Jude,
"Is it true?" asked the concerned voice on the other end of the phone.  It took me a moment before I could answer.  There have been so many requests for help over the last few weeks, particularly in light of recent natural disasters.  All I could say was, "Let me ask some of our friends and supporters."  The voice on the other end of the phone was our own Father Ademar Fighera, S.A.C.  He is involved with our Pallottine Mission work in Mozambique, Africa — mostly at Quissico in the Inhambane Province.  He was calling because he had heard St. Jude Shrine might arrange to have more mosquito nets sent for the children there.
Please tell your friends and supporters that even a few pennies will help save a life! The children desperately need those nets," pleaded Father Fighera. — Fr. Ademar Fighera
Malaria is one of the most common sicknesses that affect the people of this region.  Dengue fever, measles, and sleeping sickness are also rampant.  One of the easiest ways of preventing these diseases is with a net — mosquitoes carry the parasites that cause this horrible sickness.
That's why I promised Father Fighera I would ask for your help.
The nets themselves are not expensive, but by the time you add in the cost of getting them to Mozambique, it means fewer nets for the children.  That's why your gift of $5 or $7 would mean so much!
The last time our Shrine sent nets to Africa, the children imagined they were like shimmering wings of angels, sent from heaven to surround and protect them.  The women of Quissico must often use tree branches to swat mosquitoes, but some nights, huge swarms can be heard buzzing even from a distance.  Only a net can provide a safe place for children to sleep.
These diseases spread by mosquitoes are often a slow, agonizing death sentence for many children.  The children at Quissico want to believe it's true — that a stranger like you would have a heart big enough to care about them.
Do something miraculous by supporting the work of St. Jude Shrine!
I know there may be many things in your life that are weighing heavily on  you.  Let me help lift that burden by presenting your needs to our good friend, St. Jude.  Write today and allow me to include your petitions in our many novenas and prayers presented in the Shrine and on St. Jude's tomb in the Vatican.  By making hope possible for others, you will find hope as well!
Wishing you the Hope of St. Jude,
Father Peter Sticco, S.A.C. Novena Director