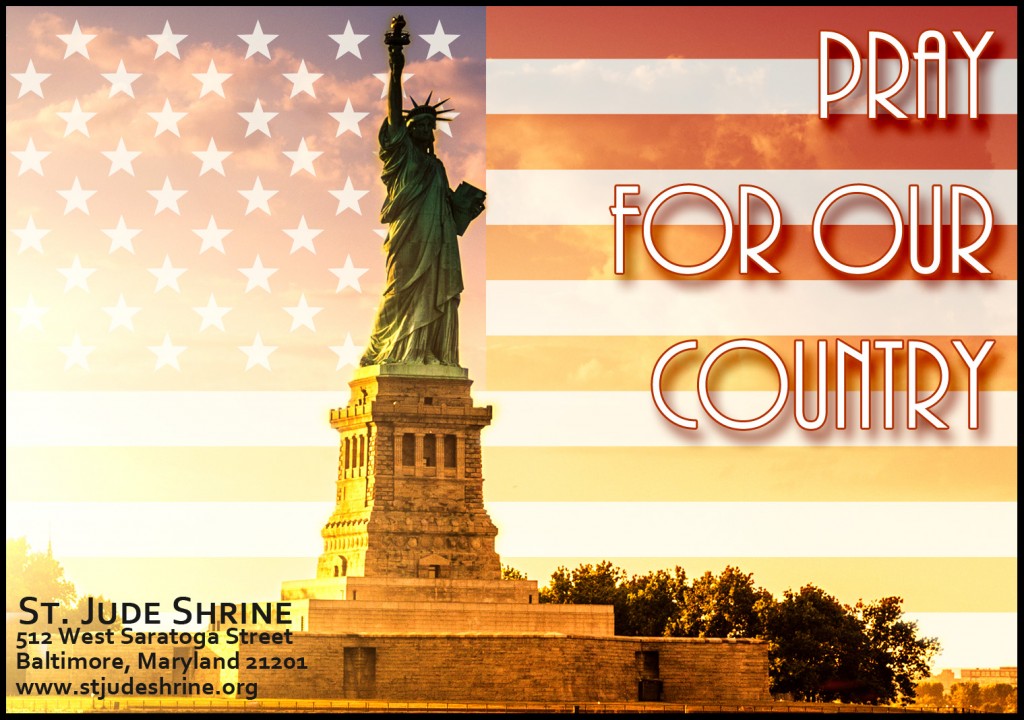 Dear Friend of St. Jude,
If you are like the many people I hear from every day, you are concerned about the unsettled state of our country. Some worry that our spiritual and moral foundations are eroding away. Others are concerned about the lack of unity that threatens our democracy. Most people are troubled about the escalating hatred and violence that we see in breaking news reports almost every day.
I hear from people every day who are anxious about the conflicts and strife that plague our nation and world. I also hear from people who worry about circumstances in their own lives that cause great stress.
If you are among those who worry, please remember that desperate times call for a deeper faith in God and in our beloved St. Jude, saint of hopeless causes.
Whatever worry or problem you may be facing – family turmoil, financial problems, health issues, bereavement or a difficult situation that causes you to lose hope – know there is a powerful Saint who waits to answer your call for help. For whatever is weighing heavily on your heart, I encourage you to call on St. Jude.
Here are just a few inspiring testimonials that we recently received from people telling how St. Jude changed their lives.
I pray to St. Jude every day and ask him to protect all my loved ones and friends. I know that St. Jude answered my prayer. Yesterday, there was an armed robbery at my job. I was not prepared for that, and I did some silly things that made the robber angry, but I did not get hurt, and all the people around me were safe. I would like to thank St. Jude for protecting us. -Anonymous

A few weeks ago, my father was diagnosed with bladder cancer. We were told that there was a 90% chance he would lose his bladder. The doctor was also concerned that the cancer may have spread to other organs. Needless to say, we were devastated. I said my prayers to St. Jude, and we were told that the cancer was stage II and the bladder may be saved if the treatment was successful. This is a miracle to me because I simply prayed that the cancer would not spread. I never imagined that he would be able to keep his bladder. I know through the divine intervention of St. Jude that God has given my dad a good chance to survive this horrible disease. I will eternally show devotion to my patron saint, St. Jude. – Debi

Twenty-three years ago, my son was addicted to heroin. After he went to rehab, I called on St. Jude for help by praying St. Jude's prayer card daily for what seemed like a long time. I foolishly became discouraged, but I continued pleading with St. Jude. Lo and behold, my prayers were answered. My son has been drug-free for years, is happily married, and has raised three beautiful children. Along with Christ and the Blessed Virgin, St. Jude is my stronghold in life. I will always be indebted to him. – Helen
You, too, can benefit from St. Jude's powerful intercession. All you need to do is believe in God and put your trust in Him, just as St. Jude did.
Please let us pray with you for St. Jude's intercession in your life. Simply send us your prayer intentions. I promise you our Priests and Brothers will remember your requests in our prayers, Masses and Novenas. I also promise to include your needs in daily Mass that is celebrated on St. Jude's tomb in the Vatican.
Thank you for your ongoing support. Your prayers and offerings enable us to continue the work of our important ministries in 54 countries around the world. Your generosity also helps to keep the doors of St. Jude Shrine open for all who seek answers to their prayers and peace of mind. Thank you!
Wishing you the hope of St. Jude,  
Fr. Peter Sticco, S.A.C.
Novena Director
P.S. Your gift today helps support all our Pallottine ministries, particularly our St. Jude Shrine and the poor we serve. Please be as generous as possible and don't forget to send  your prayer requests, so they may be remembered in the prayers, Novenas and Masses at our Shrine and in daily Mass that is celebrated on St. Jude's tomb in the Vatican.