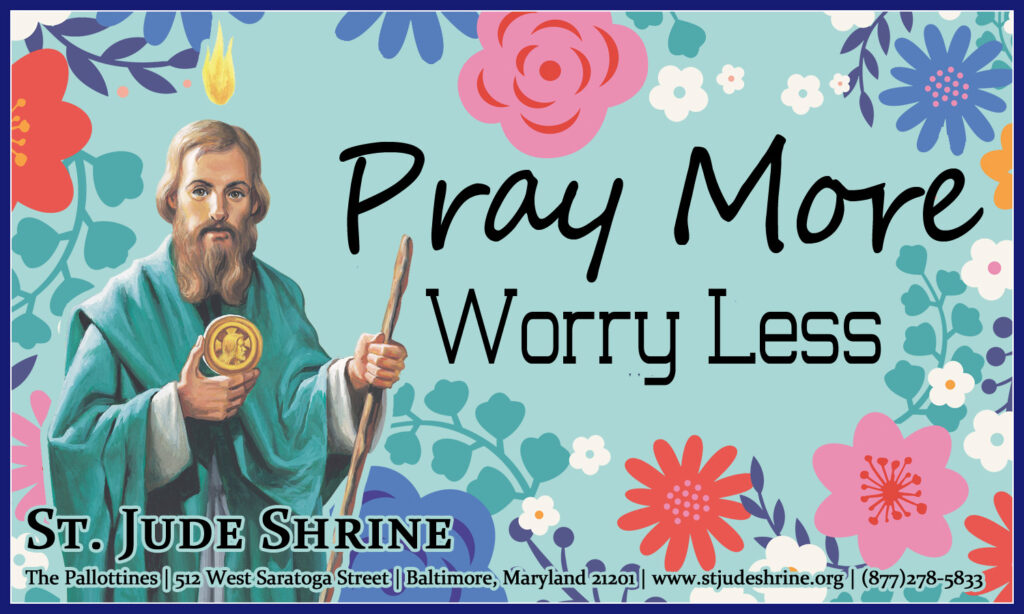 Dear Friend of St. Jude,
Through the heartaches and despair of the last year-and-a-half, you have been a faithful member of our Circle of Hope, never wavering in your support of our mission and ministries. Please know that we are here to continue to support you in the aftermath of the pandemic and the hardships you may have experienced because of it.

Sometimes pain, fear and hopelessness weigh heavy on our hearts and take a toll on our physical and emotional health. If you are weighed down with worry, know that there is no wound Jesus cannot heal, no sin the Lord will not forgive and no prayer you cannot bring to our beloved St. Jude to return
hope to your life.
I invite you to unburden yourself… to open your heart and free yourself of the troubles that burden your soul.
Perhaps you are worried about a health issue… or you are struggling to make ends meet… or do you have a child who is having a hard time finding a job? Perhaps a family member needs help fighting an addiction… or is dealing with the long-term effects of the coronavirus. Whatever may be troubling you, please call on St. Jude to relieve your aching heart and fortify your faith in God.
We Pallotine priests and brothers are honored to pray for St. Jude's help in bringing your prayer requests before God. I've included just a few of the many testimonials we receive every week from people giving thanks for St. Jude's miraculous intercession.
I was a basket case with worry about problems with my health. My prayers to St. Jude brought me comfort, and my neurological problems were relieved. I feel like my life was blessed and my spirit refreshed through St. Jude's miraculous intervention. I got hope when I needed it most, and I will be forever grateful to St. Jude for helping me to be healthy and overcome my illness and my fear. Blessed St. Jude, I will always be grateful for your wondrous blessing. I am eternally devoted to you. – Kevin

I would like to thank St. Jude for answering my prayers. When I thought the cancer might have come back, he helped me overcome my fears and gave me courage to hope against hope. St. Jude has been there for me at the most difficult times, and I will always love and honor St. Jude as my special and powerful patron saint. Thank you! – Krystyna

I want to publicly thank and encourage devotion to St. Jude. I recently lost income from my job and was having problems in my marriage. I asked St. Jude to pray for grace and mercy on my behalf. A temporary job was practically placed in my lap which has provided me with the means to meet my financial obligations, and I now feel the peace of God in my home. I know that it is only because of St. Jude's intercessory prayers that I am worry free and able to make it through this difficult time. – K
When I receive your special intentions, please know that our priests and brothers will place them into the hands of St. Jude and make sure they are lovingly remembered in our prayers, Novenas and Masses.
When you send your requests, may I humbly ask that you consider an offering for the poor in our missions in 54 countries around the world? Your gift of $15, $25, $35, or even $50 will provide tangible relief aid, such as food, medicine, clean drinking water and shelter… along with the love and hope of Jesus Christ.
I count on your prayers and support that touch great suffering with hope. I am ever grateful for your compassion for Christ Himself who comes to us in the poor.
May God's blessings and loving kindness be with you and your loved ones.
Wishing you the Hope of St. Jude,    
Fr. Peter Sticco, S.A.C.
Novena Director
P.S. Please send your prayer requests along with your most generous gift today. I will make sure your prayer requests are remembered in the prayers, Novenas and Masses at our Shrine and on the tomb of St. Jude in the Vatican.