As we begin a New Year, I want to take this opportunity to thank you for all that you do to continue to promote the devotion to St. Jude Thaddeus – "The Saint for the Hopeless and the Despaired." Your membership in the St. Jude Circle of Hope is critical to the ongoing work of the Nationwide Center of St. Jude devotions. What a blessing you are!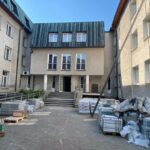 I have shared with you in the past that – in addition to our work at St. Jude Shrine – our Pallottine priests and brothers serve among the poor and needy in 54 countries around the world. Recently, I traveled to Poland to see firsthand the effects the war in Ukraine is having on those who have been forced from their homes. I also wanted to be able to give you an update on the work of our Pallottine missions in the region since I first wrote to you about them last year.
As of a few weeks ago, the Pallottine house in Oltarzew (central Poland), which was set up to provide accommodations for Ukrainian refugee women and children, is already near capacity. Additionally, in order to ensure that the children do not fall behind in their education, our priests and brothers have begun an educational program to assist children who have experienced war-related trauma.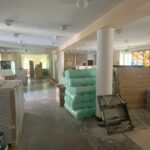 At the same time, Fr. Mirek Mejzner and other confreres are trying to help refugee families get on with daily life. I can't begin to tell you the number of horrific stories I heard – such heartbreak and tragedy! The mission has also hired workers to help with cooking and laundry for the nearly 100 people taking shelter there. There is a desperate need for funds to help with this. Fr. Mejzner is also working to find jobs for as many of the displaced adults as possible, but that is an incredible challenge as well.
My dear friend, few of us here in the U.S. can begin to comprehend the impact that the war continues to have on so many families – especially the children. An entire nation has been devastated and the suffering continues. The need for humanitarian aid among the Ukrainian people continues to be overwhelming!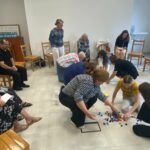 Will you join me in prayer as we beseech our dear Lord, through the miraculous intercession of St. Jude, to restore peace to those who have suffered so much? You and I both know of the power of the Saint of the Impossible! Through our prayers and God's grace, peace can return to the people of Ukraine. In addition to your prayers, I am humbly asking that you send a donation to help provide basic living necessities to those who have lost everything. I know we are struggling in these difficult times, but these dear souls are longing to know that they have not been forgotten – especially as the winter months unfold. Will you help us answer their pleas?
When you send your offering, I hope that you will also be sure to include your own intentions to be remembered here at the Shrine. There is no limit to the intercessory power of St. Jude nor of the goodness of our God. In addition to the needs of those in Ukraine, our Divine Lord Jesus asks that we come to him with every problem – no matter how many there may be. "Come to me . . . and I will give you rest!" Matthew 11:28.
May our generous God, through the intercession of St. Jude Thaddeus, bless you with a prosperous and joyous New Year!
Wishing you the Hope of St. Jude,
Fr. Peter Sticco, S.A.C.
Novena Director
P.S. Your financial support is so critical to the ongoing ministry of St. Jude Shrine as well as the work in Pallottine missions in Poland, Ukraine, and around the world. Please send your prayer requests today so that I can make sure that they are included in the daily Mass that is celebrated on the tomb of St. Jude in the Vatican. God bless you for your kindness.