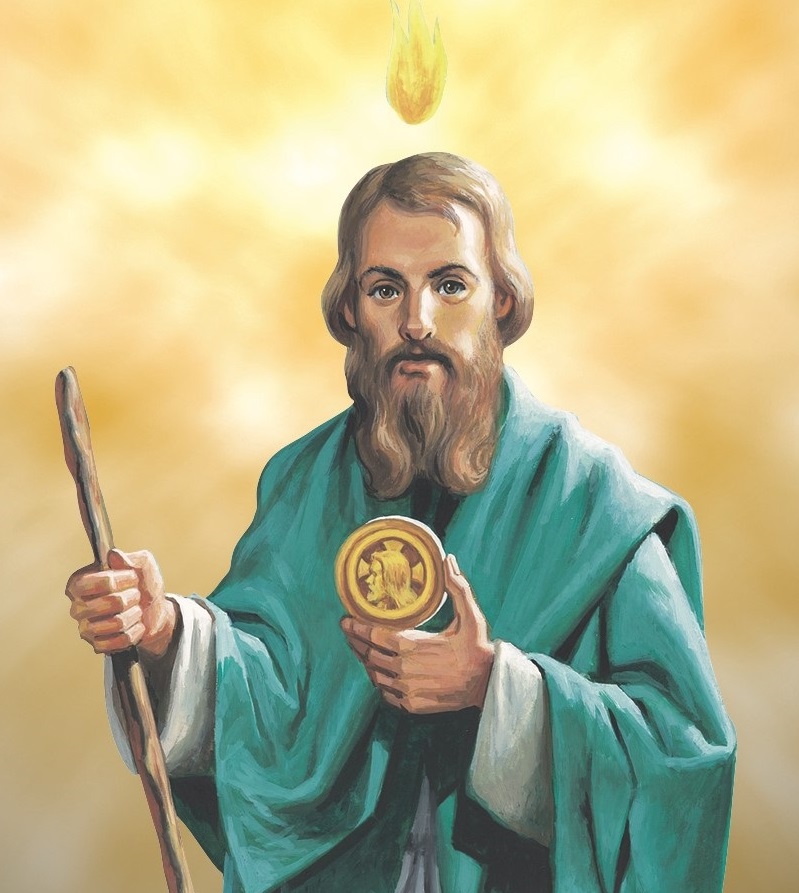 Dear Friend of St. Jude,
Please know you are in my thoughts every day as we make our way together through these difficult times. While you may experience the daily isolation on your own, you are not alone because our priests and brothers remain committed to your spiritual care now more than ever!
The uncertainty and challenges of this pandemic leave us all needing God in our lives and hope in our hearts… so please take comfort in knowing that we continue to pray every day for your health, safety, comfort and peace.
Here at the Shrine, we are devoted to our beloved St. Jude, patron saint of hopeless causes. When situations seem impossible, pray to St. Jude. Through his intercession, countless people have received hope, healing and miracles. 
When I was diagnosed with cirrhosis of the liver, I was given 2 to 5 years to live. I started praying to St. Jude every day. My liver failed, but I was able to get a transplant. Today, thanks to the power of St. Jude, I am enjoying my life and my family. I have a candle on my mantle that burns 24/7 as a reminder of how fragile life is and my forever devotion to St. Jude for his miracle. Without him, I would not be here today. Thank God and St. Jude for my life today! To anyone who reads this: have faith and believe in St. Jude's power. He will deliver in times of despair. God bless! – Robert

"This is a message of thanks to St. Jude. My husband and I tried to have a child for over three years. We were heartbroken after having lost two of our pregnancies and felt hopeless. At a point when I felt the most discouraged and sad, I found a written Novena to St. Jude in church. Within days of praying to St. Jude, I became pregnant with my son. He is a miracle, and I will thank God and St. Jude for our son every day of my life." – Vivian  

"A miracle took place in our family. After so many long and sad years, our son is sober. I promised God that I would testify that miracles still happen. I did despair. I felt it was a hopeless situation that would never change. But through prayer to St. Jude and the Blessed Mother, our son is finding his way back. Thank you God. Thank you St. Jude." – Joanne
For some who pray for St. Jude's powerful intercession, the cure is a physical one; for others it may mean freedom from addiction, and for some there may be no immediate cure but instead an overwhelming sense of peace and reconciliation. For all, there is a deep belief that through the intercession of St. Jude, people of faith will be touched by the love of Jesus and His tender care.
If this is a time that you need the hope and healing of St. Jude, please let us know right away. We are honored to pray for his help in bringing your prayer requests before God. Simply send us your prayer intentions. Our priests and brothers will remember them in our prayers, Novenas and Masses.
When you send your prayer intentions, I prayerfully ask you to open your heart and help us reach out to the poor through our ministries of hope in 54 countries around the world. Your offering will help provide tangible relief aid to the poor, including food, shelter, medicine and clean water… along with the love and hope of Jesus Christ.
Your gift will also help keep our sacred Shrine open as a witness to the everlasting love of Jesus and the powerful intercession of St. Jude.  
I will watch my inbox for your reply. When I receive your prayer requests, I promise to include your needs in daily Mass that is celebrated on St. Jude's tomb in the Vatican. Write to me today and I promise your prayers will be heard!
May you be strengthened with God's healing love through the intercession of St. Jude.
  Wishing you the hope of St. Jude,      
Fr. Peter Sticco, S.A.C.
Novena Director
P.S. Please send your prayer requests along with your most generous gift today. I will make sure your prayer requests are remembered in the prayers, Novenas and Masses at our Shrine and in daily Mass that is celebrated on St. Jude's tomb in the Vatican.