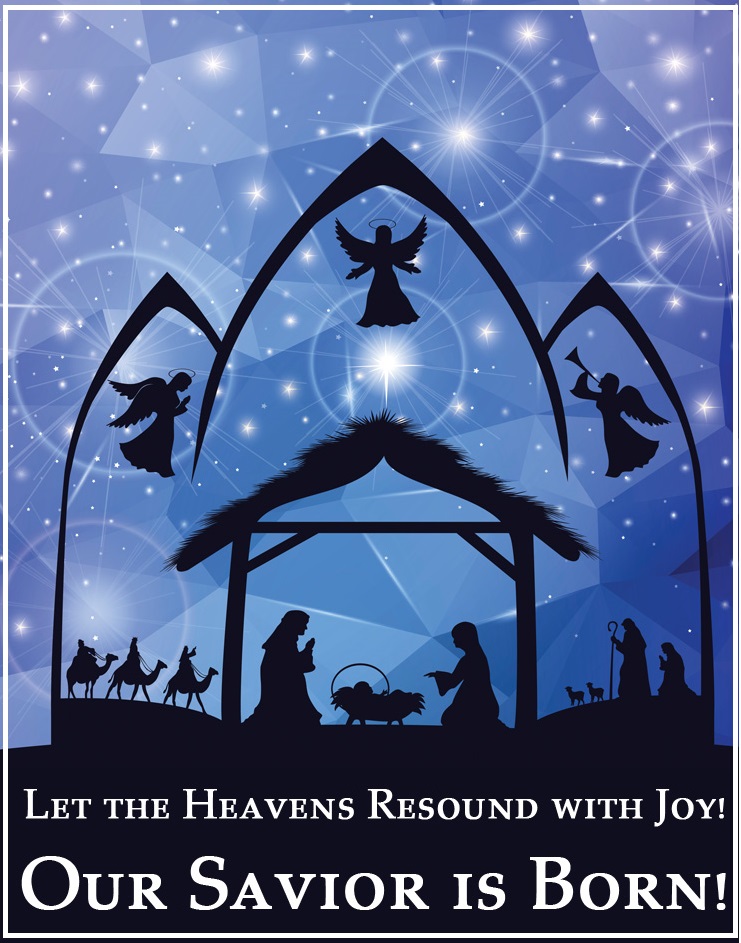 Dear Friend of St. Jude,
During this Christmas season, we are especially grateful for your gracious spirit of giving which helps us share Christ's love for all people. You are an indescribable blessing to our mission and ministries!
Many symbols remind us of Christmas…among them, the manger, the star and the angels who foretold events to come.
Angels figure prominently throughout the Bible, and especially in the Christmas Story. In the book of Luke, it was the angel Gabriel who announced to Mary that she would give birth to the Son of God. In the book of Matthew, an angel reassures Joseph in a dream not to be afraid to take Mary for his wife, and again in Luke, it is an angel who proclaims to the shepherds, "I am bringing you good news of great joy for all the people: to you is born this day in the city of David a Savior, who is the Messiah, the Lord."
Throughout history, people have believed in angels. In fact, during the time of Christ, many people believed in guardian angels, just as they do today. I share with you here just a few of the testimonials we have received honoring the angels and St. Jude.
I am 64 years old. I was diagnosed with brain cancer almost three years ago. After having surgery, I was advised by my surgeon that this was grade four cancer, and most probably, I would die before the end of two years, so "go out and be happy". After the initial information, I returned to daily mass and many prayers. My life has changed so much spiritually, and I continue my life in faith, hope, and service to God. I have been so blessed by the intercession of God's angels and saints. I continue to thank Our Lord for his never-ending love and compassion for myself and the whole world. In my weakness, God gives me everything I need.
I have received many blessing through St. Jude. Recently, I was able to obtain a loan for $10,000 to help out my son and his family with financial problems. I was able to obtain the money within 24 hours. I believe that without St. Jude and my angels, I would not have been able to help my family. Thank you God, St. Jude, and my angels. – Anonymous
Thank you St. Jude. Our daughter, who has always been careful about what she eats and exercises daily, was diagnosed with stage three ovarian cancer. After many hours of praying to St. Jude, she is now in remission and doing well. We thank St. Jude, God, and all the angels and saints for her recovery and continue to pray that her cancer will never come back. St. Jude has always answered our prayers. – M.R.
We will be honored to call upon St. Jude's powerful intercession for those in your life who need help and hope. All you need to do is send us your prayer requests. Your petitions will be lovingly remembered in prayer during our novenas and Masses throughout the Christmas season. I urge you to share this wonderful gift of prayer with those you love by sending your requests today.
As you remember those you care about, may I also ask you to support our miraculous work by including a Christmas offering? Your gift will help support our ministries in 54 countries around the world. Thanks to your generosity, we will be able to do so much good for the poor, such as deliver food and spiritual care to people in isolated villages in the Andes mountains of Peru… provide shelter and emergency relief aid to refugees in Nigeria… and bring medical care to children suffering from AIDS in India.
This Christmas, when you celebrate the birth of Christ, thank God for the gift of His Son. Thank God, too, for our ministries, which reach so many people who do not know the love of our Savior. Thanks to you, we are able to bring God's love to the world.
May you and your loved ones enjoy a most blessed Christmas!
Wishing you the Hope of our Newborn King,  
Fr. Peter Sticco, S.A.C.
Novena Director
P.S. You and your intentions have a special place in our Christmas Novenas, Masses and in the hearts and prayers of all our Pallottine priests and brothers. I will make sure your prayer requests are also remembered in daily Mass that is celebrated on St. Jude's tomb in the Vatican.